What is FOCUS
FOCUS, formerly known as Focus On Our Future, was developed in 1994 in a collaborative effort between United Way of York County, York County Community Foundation, Penn State York, and Child Care Consultants, Inc. Initially funded by grants from the Howard D. Heinz Endowments and Pew Charitable Trusts, FOCUS has grown into a program supported by businesses, foundations, community leaders, individuals, educational institutions, and state government.  FOCUS wants all children to enter school ready to learn. Through inclusion, collaboration, research, and integrity, FOCUS works to improve the lives of children in York County by supporting quality early childhood experiences.
With Support From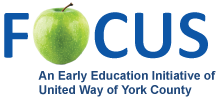 From a Child's Perspective
The video, "We are Pennsylvania's Future", shares from the children's perspective how investments in quality early education build a brighter future for Pennsylvania's families, businesses and communities. To learn more about how you can help, visit www.papromiseforchildren.com.